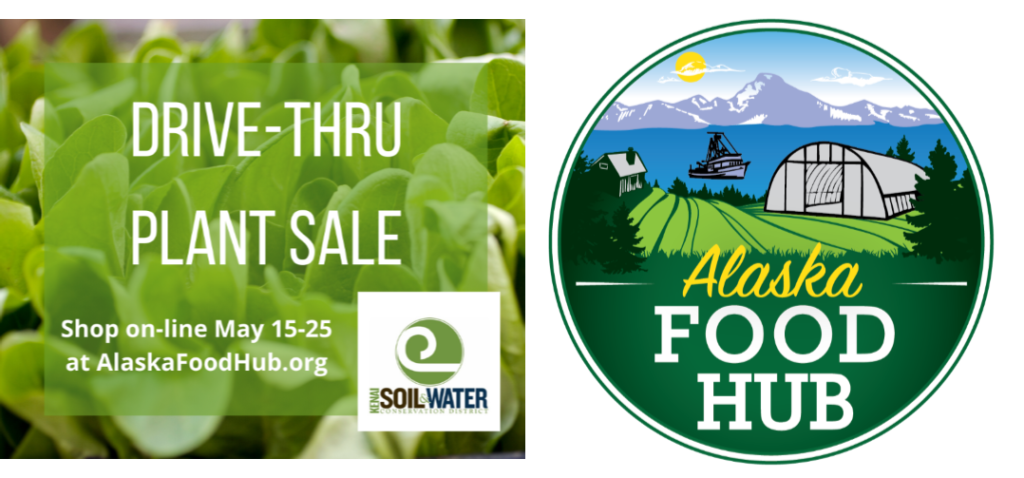 In lieu of the 4-hour plant sale that takes place annually in front of Three Bears in Kenai, Kenai Soil & Water Conservation District brings you a two-week opportunity to select vegetable, flower and herb starts, berry bushes, certified organic compost and more, all from small-scale producers of the Central Peninsula.
How it works: 1) SHOP at Kenai Soil & Water's on-line storefront at www.AlaskaFoodHub.org. 2) To make purchases, you must first CREATE AN ACCOUNT. At the top of the page, select "Sign Up." Then enter your email address and choose a password. 3) PLACE YOUR ORDER with a credit/debit card. Enter discount code "KSWCD10" for 10% off all items on Alaska Food Hub, including items sold by Kenai Soil & Water. 4) PICK UP YOUR ORDER at Soldotna Cook Inletkeeper Community Action Studio, 35911 Kenai Spur Hwy Ste 13, near The Mattress Ranch. Food Hub staff will deliver items to your car.
SCHEDULE:
Shopping Period 1: noon, Friday, May 15 to 10 pm, Monday, May 18
Pick-up Day 1: 4 – 7 pm, Wednesday, May 20
Shopping Period 2: noon, Friday, May 22 to 10 pm, Monday, May 25
Pick-up Day 2: 4 – 7 pm, Wednesday, May 27
For an easy introduction to Alaska Food Hub, go to http://www.alaskafoodhub.org/how-it-works-the-basics/
Have questions? Email us at kenaiswcd@gmail.com or call (907) 398-6975.