Projects
High Tunnel Project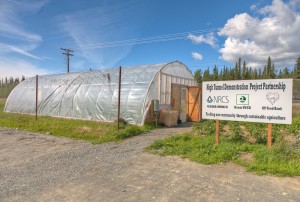 Low-tech high tunnels are cutting edge technology when it comes to increasing food production in Alaska.  Since 2010, the Kenai SWCD has partnered with the Natural Resources Conservation Service (NRCS) to promote high tunnel agriculture through efforts such as the High Tunnel Demonstration Project at the Kenai Peninsula Food Bank, high tunnel tours and educational gatherings, assistance with required record-keeping, and an e-newsletter for Central Peninsula High Tunnel Growers.
Why high tunnels?
High tunnels, generally unheated metal or wooden structures covered with plastic, extend the growing season and improve crop yields in an environmentally-friendly manner.   Specifically, they:
Protect crops from damaging weather and pests
Improve soil and water quality from reduced fertilizer and pesticide use
Reduce energy consumed for food transport
To subscribe to the Central Peninsula High Tunnel Growers e-newsletter, email a request to [email protected].
For more help see the Helpful Resources for Kenai Peninsula High Tunnel Growers page.
To apply for the NRCS Environmental Quality Incentives Program, a cost-share program, which helps growers get into high tunnels and other environmentally sound agricultural practices, contact the nearest NRCS office:
Kenai  (907) 283-8732 x 106
Homer   (907) 235-8177 x 103