Kenai Peninsula Market Farmers Development Project
In mid-2014, the USDA Agricultural Marketing Service awarded the District an $83,000 Farmers Market Promotion Program (FMPP) grant. Here's a summary of the project, which took place from 9/2014 to 3/2017. The full final report can be found here.
GOALS 
Expand the number of viable farm businesses on the Kenai Peninsula marketing directly to consumers,
Facilitate the development of farmers markets, CSAs and other direct marketing venues, and
Cultivate community support for Kenai Peninsula food, forage and fiber producers
PROJECT HIGHLIGHTS
Around 100 farmers and potential farmers participated in six farm business development events featuring Information on farm budgeting, risk management, taxes, marketing and business communication.
In early 2015, we partnered with Central Peninsula Garden Club to host a full-day Farmers Market Roundtable targeting beginning vendors and gardeners in the process of scaling up to direct marketing.
We supported the development of Farmers Fresh Market at the Kenai Peninsula Food Bank by facilitating organizational meetings, hiring a manager and helping with advertising.
We promoted local farms and farmers markets through the Kenai Loves Local Food Directory, radio and print ads for the Annual Fiber Arts Festival and Harvest Moon Local Food Festival and public presentations.
We made it easy for reporters to cover local food knowledgably by distributing an annual press release with key facts, figures and developments.
In addition to the expanded and redesigned local food directory, we created a "Who Says You Can't Farm in Alaska?" postcard with facts and trends regarding Kenai Peninsula agriculture, and a large folding display board, "Nine Fine Ways to Increase Alaska's Food Security and Support Sustainable Agriculture".
MEASURABLE IMPACTS
New businesses and jobs: From 2014 to 2016, the number of Central Peninsula market farmers more than doubled from 24 to 50.  At least 12 new seasonal jobs were created on established Central Peninsula farms during the same time period.
Increased sales: More than half of farmers surveyed in late 2015 and late 2016 reported their sales had increased from the previous year.  The average increase reported in 2015 was 25%, and in 2016, some farmers reported that sales doubled over the previous year.
Farmers market expansion: From 2013 to 2016, Farmers Fresh Market at Kenai Peninsula Food Bank expanded from eight vendors (5 full-season/3 partial) to 14 (9 full-season/5 partial).  The Wednesday Market became a major visitor attraction in the heart of Soldotna with dozens of food trucks, craft vendors, live music and a small, steady handful of produce vendors.
Increased visibility: In early 2016, the local newspaper started including agriculture in its annual economic trends report.
PARTNERS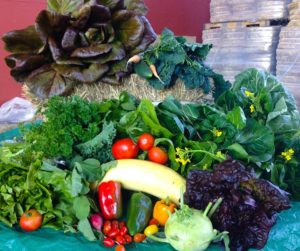 We'd like to thank our many community partners for their contributions to the success of this project:
Central Peninsula Garden Club

Central Peninsula Hospital

Central Peninsula League of Women Voters

Dena'ina Wellness Center

Homer Soil & Water Conservation District

Ionia Inc.

Jackson Gardens

Kenai Chamber of Commerce

Kenai Change

Kenai Feed & Supply

Kenai Local Food Connection

Kenai Peninsula College

Kenai Peninsula farmers

Kenai Peninsula Farm Bureau

Kenai Peninsula Food Bank

Kenai Peninsula Foundation

Kenai Watershed Forum

Lancashire Farms

Odie's Deli

Ridgeway Farms

Soldotna Chamber of Commerce

Sustainable Homer

UAF Cooperative Extension Service