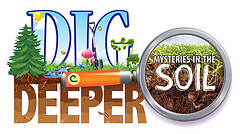 The Kenai Soil & Water Conservation District is pleased to announce the winners of the annual conservation poster contest. This year's theme – Dig Deeper: Mysteries in the Soil – challenged students to learn about and convey through artwork the complex living world beneath our feet.  
First place winners in each age category (K-1st, 2nd-3rd, 4th-6th) win $50 and the chance to compete in the state-level competition. Second place in each age group wins $30, and third place wins $20. All winners will be honored at the Central Peninsula Garden Club meeting to be held at 7 pm, Tuesday, Nov. 11, 2014 at the Cook Inlet Aquaculture Association Building. Winners of the state level contest proceed to a national competition sponsored by the National Association of Conservation Districts.
This year's local contest was co-sponsored by Central Peninsula Garden Club, Kenai Watershed Forum, UAF-Cooperative Extension Service and the Natural Resources Conservation Service Kenai Field Office.
CONTEST WINNERS
| | | | | | | |
| --- | --- | --- | --- | --- | --- | --- |
| Prize | Name | | Grade | School | Age | Teacher |
| Grades K-1 | | | | | | |
| 1st | Daniel | Steffensen | 1st | Connections | 6 | parents |
| Grades 2-3 | | | | | | |
| 1st | Emelia | Malone | 3rd | Mt. View | 8 | Mrs. Morrow |
| Grades 4-6 | | | | | | |
| 1st | Maria | Shaginoff | 6th | KMS | 12 | Mrs. Beck |
| 2nd | Arielle | Hamar | 6th | KMS | 11 | Mrs. Beck |
| 2rd | Kaylee | Lauritsen | 6th | KMS | 11 | Mrs. Rolph |
| 3rd | Sammy | Baker | 6th | KMS | 11 | Mrs. Beck |
| 3rd | Owen | Rolph | 6th | KMS | 11 | Mrs. Beck |