CURRENT LOCAL FOOD NEWS — Updated March, 2015
The Kenai Local Food Connection now has its own Facebook page (https://www.facebook.com/KenaiLocalFood), website (www.KenaiLocalFood.org) and newsletter!
FARMERS MARKETS OF THE CENTRAL PENINSULA — 2015
Central Kenai Peninsula Farmers Market
Saturdays, 10 am to 2 pm starting May 30
Soldotna, Kenai Spur Hwy and E. Corral
Contact: Clayton Hillhouse, 252-6177
Farmers Fresh Market
Tuesday, 3 – 6 pm starting June 2
Kenai Peninsula Food Bank, Community College Dr. and K-Beach Rd.
Contact: Dan Funk, 260-5295 or 382-0210
Kenai Saturday Market
Saturdays, 10 am – 5 pm
Kenai Visitors Center, 11471 Kenai Spur Hwy
Contact: Louanne, 283-1991
Soldotna Wednesday Market
Wednesdays, 11 am – 5 pm starting June 3
Soldotna Creek Park
Contact: Annette Villa, 252-7264
From 2014…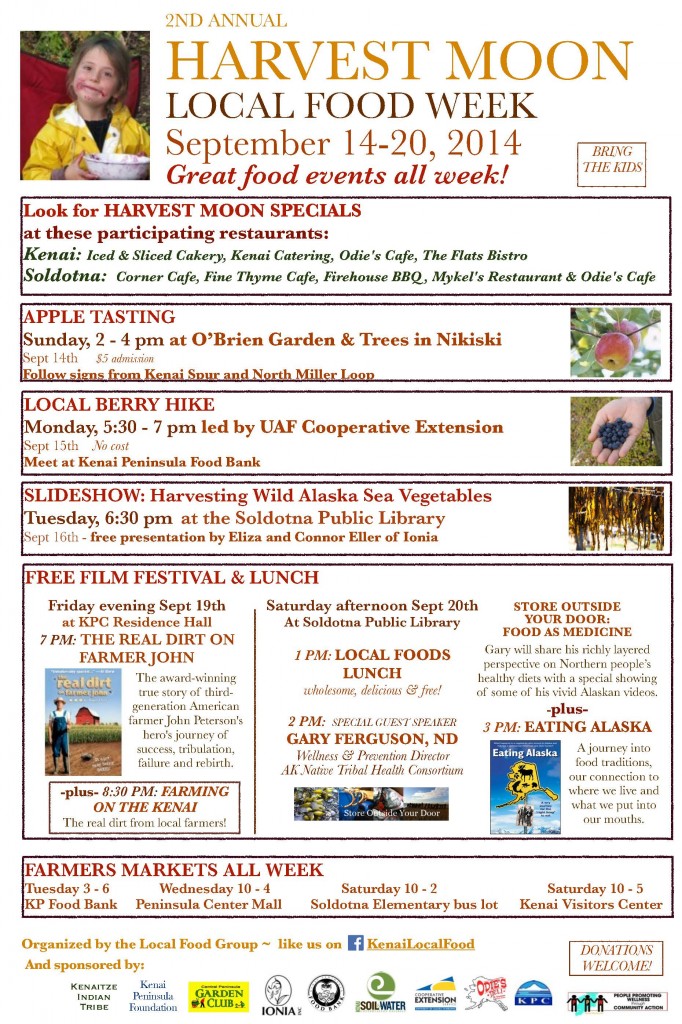 Click here to download the latest version of the Local Foods Directory for the Central Peninsula!  Kenai Local Food news is on Facebook too!
THANK YOU, DONORS TO THE 2013 LOCAL FOODS CAMPAIGN:
Alaska Div. of Agriculture
Kenai Peninsula Foundation
City of Soldotna
City of Kenai
Kenai Peninsula Resource Conservation & Development
Back to Nature Chiropractic
Matti's Farm
Alaska Berries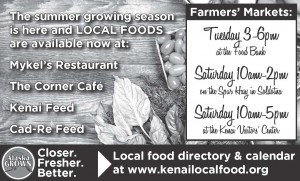 Click here to download  yourLocal Foods Directory and Calendar for the Central Peninsula!