Click here to download your Local Foods Directory and Calendar for the Central Peninsula!  Kenai Local Food news is on Facebook too!
Check out these latest additions to Local Foods Week:  Odie's Cafe and Fine Thyme Cafe in Soldotna are both featuring soups made with local veggies this week!  Here's the rest of the schedule… 
THANK YOU, DONORS TO THE 2013 LOCAL FOODS CAMPAIGN:
Alaska Div. of Agriculture
Kenai Peninsula Foundation
City of Soldotna
City of Kenai
Kenai Peninsula Resource Conservation & Development
Back to Nature Chiropractic
Matti's Farm
Alaska Berries
2013 CALENDAR OF LOCAL FOOD EVENTS
Saturday, May 25

 

Kenai Saturday Market opens!  Saturdays, 10 am – 5 pm through September 14, featuring Alaska Grown produce and crafts.

Saturday, June 1

 

Central Kenai Peninsula Farmers Market opens!  Saturdays, 10 am – 2 pm through September 28. All local produce, free recipes, tours of the Historical Post Office, and live music on occasion.  Located at the corner of Kenai Spur Highway and E. Corral in Soldotna.

Tuesday, June 4

 

Farmers Fresh Market opens!  Tuesdays, 3 – 6 pm through the summer.  Located at 33955 Community College Drive in the Food Bank parking lot, this new market specializes in fresh local produce and benefits the Kenai Peninsula Food Bank.

June 6-8

 

Kenai River Festival at Soldotna Creek Park.  Don't miss the "World Famous Grilled Salmon" for lunch and/or dinner!

Mid- to late July

 

Locally-grown strawberries start to hit farm stands and farmers markets.

August/September

 

U-pick berries ripe for the picking.

Saturday, August 10

 

Third Annual Kenai Peninsula Beer Festival, 5 – 10 pm at the Soldotna Sports Center.   Soldotna Rotary Club hosts this event showcasing craft beer from breweries around the State of Alaska, including four Kenai Peninsula breweries and one local winery.  Advance tickets are available at local breweries.  Must be at least 21 and have a picture ID at the door. For more information, visit

https://www.facebook.com/KenaiPeninsulaBeerFestival

Saturday, August 17

 

4-H Junior Market Livestock Auction at noon at the Kenai Peninsula State Fair in Ninilchik.  Locally-raised beef, pork, lamb, chicken, turkey and rabbits for sale.

September 16-22

 

Harvest Moon Local Foods Week   A week of events celebrating healthy and local foods.  Non-profits, businesses, schools, parks and farms around Soldotna, Sterling, Kenai, Kasilof and Nikiski are invited to contribute events to Local Foods Week.  Contact Lydia Clayton at Cooperative Extension for details: 262-5824.

September 20-21

 

Harvest Moon Local Foods Film Festival at the Kenai Peninsula Food Bank
To submit events to this calendar, email kenaiswcd@gmail.com.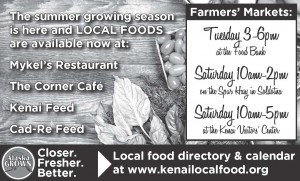 Local Foods Directory and Calendar for the Central Peninsula!