The Kenai Soil & Water Conservation District has partnered with Kenai Feed & Supply to make its inventory of specialized farming equipment available to Cooperators and other Kenai Peninsula producers.  On this page you will find information about the equipment, rental policies, and how to make a reservation.
Equipment Inventory:
Meri Crusher (Hakmet Model MJ-1.4) 
Rental Rate: $350/day.  Requires completion of approved training and 60+ hp tractor with rear SCV/hydraulic controls OR an approved operator.
Operator and Tractor: $150/hr. (2 hr. minimum), plus mileage
For preparing cleared land for planting, reclaiming old farm land, or maintaining trails.  Crushes woody material not exceeding 4″ in diameter.  Should not be used in rocky soil or where heavy brush, trees or stumps are present.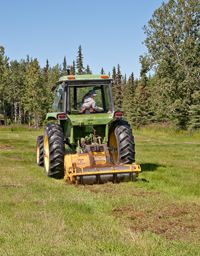 John Deere 660 RotoTiller, 5 ft. wide
Rental Rate: $125/day

Truax No-Till Drill,  Model~FLXII-812G, with transport trailer
Rental Rate: $100/day, 2 day minimum.  Requires completion of approved training and 40+ hp tractor with rear SCV/hydraulic controls OR an approved operator. 
Operator and Tractor:  Ask for current rates.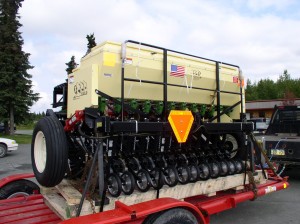 Re-seed or over-seed without tilling.  Double disc furrow openers and depth bands optimize seed placement and seed to soil contact. Multiple seed boxes give you flexibility to seed native fluffy seed, cool season species, small grains, legumes and wildflowers.
McHale Square Bale Wrapper – McHale 995LM
Rental Rate: $50/day (Plastic wrap available for purchase.)
John Deere 45-gal. tow-behind sprayer (requires 4-wheeler or lawn tractor)
Rental Rate: $25/day
Designed for use on smooth, level ground only. (On rough ground, you'll get an uneven spray pattern and/or break the sprayer arms.) Battery-operated pump runs off your 4-wheeler or lawn tractor battery.

 Mobile DEC-Licensed Kitchen
Rental Rate:  $20/ day, $100/week
6.5′ x 12′ trailer with ball hitch contains propane stove, grill, refrigerator and small freezer. Suitable for value-added processing of fruit or vegetables, or for preparing and/or serving food at special events.  Call District office at 283-8732 x5 for additional specs and rental requirements.
Solo Backpack Sprayers (2)
Rental Rate: $10/day, $25/week
One sprayer is designated for herbicides and pesticides only.  The other is for liquid fertilizer.  5-gallon capacity.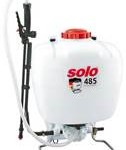 Rental Rate: $10/day
Our broadfork was hand-made by Thomas Hart in Fairbanks. Deeply aerates while preserving soil structure and minimizing weed seed surfacing. 20″ wide.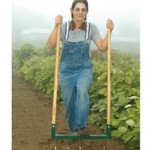 Earthway Single Row Seeder
Rental Rate: $10/day
Allows you to plant a variety of seeds with one continuous operation of opening the soil, planting the seed, covering and marking the next row.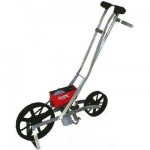 Earthway Handcrank Broadcast Spreader
Rental Rate: $10/day
Adjusts to sow any kind of grass, cover crop or grain seeds. Comes with heavy-duty rain cover for use in inclement weather.  25 lbs. capacity.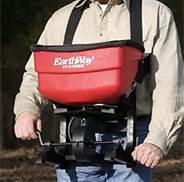 Buckeye Vegetable & Flower Planting Tools — Rental Rate: $50/2-day rental
Low tunnel plastic wrapper
Mulch row remover  (no photo)
Equipment Rental Policies
District Cooperators have priority when there are competing requests to reserve equipment on the same day(s).  See Membership for infomation on becoming a Cooperator

.

Equipment will be rented for use only on the Kenai Peninsula.
Some equipment (e.g. no-till drill) requires adequate tractor horsepower in order to operate. Please discuss with the equipment custodian prior to renting.
A signed rental agreement and deposit are required prior to rental.

 

Driver's license and proof of insurance are required to rent any District trailers.
The equipment will be clean and in working order when rented. It is the responsibility of the lessee to return the equipment in the same condition: clean and working.
Cleaning fees will be charged on any equipment not returned clean of debris, mud, crop residue, etc..
Repair costs for any damage will be charged to the lessee after the equipment has been repaired, or charges will be assessed based upon estimated repair costs from a local vendor.
Late returns will result in late fees.
How to Make a Reservation
Call Kenai Feed to make a reservation: 283-1929.  Kenai Feed is located at Mile 14.5 Kalifornsky Beach Road in Kenai.